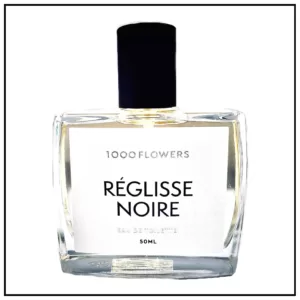 For me Reglisse Noire is a synonym of anise and licorice. Whenever I smell licorice, anise, or fennel, Rakı springs to my mind. Rakı is a grape-based, anise-infused, alcohol drink, local to the Balkan region and Turkey. A sibling to Ouzo, Sambuca, and Pastis.
It is transparent in color until water is added to soften the taste, then it turns murky white. Its odor is strong in anise which gives the liquor a distinguishable olfactive characteristic.
Reglisse Noire by Jessica Buchanan smells just like it. Back in 2013, this perfume was the first I tried from the sample set the perfumer sent me.
Reglisse Noire's top layer poises midway between delicious and poisonous, with angular licorice/anise. The scent fully demonstrates this duet with a mentholated quality that gives an herbal airiness balance to it.
Then, after half an hour or so, the apothecal smell of licorice/anise gets finely rounded with cacao, earthy patchouli, and vanilla. The aftertaste of top notes leaves a unique mark on the vanilla and makes it smell like an old-book shop ambiance at the very deep dry down. Anyone looking for such an aroma?
If you're a fan of licorice candies, then you most probably crave Reglisse Noire. I'm not, nevertheless I do love this fragrance. Also, if you're a fan of cozy, friendly, retro things you must give it a go on your skin. Again, most probably in your shopping basket.
Reglisse Noire is a friendly, simple, inoffensive, and well-made silky interpretation of licorice and anise and vanilla.
I appreciate Reglisse Noire on a feminine skin, though, for the spicy notes it may seem masculine. A homey spring/summer evening combine with soft warm colors would be a great choice to fit with the scent.
Reglisse Noire is a sheer and soft fragrance. Even the top notes are balanced and gentle. The fragrance has a life on skin and it is quite satisfactory. The top layer lives for an hour or so, then it submerges with the elements of the base. Sillage is moderate. Arm long radius, less or more. That's enough for such an aroma.