Since spring and summer are the most favorable weather to pair with white color in style, this issue of Duel posts compares two feminine fragrances that nicely fit the idea. White is the definition of comfort and luxury, and it emphasizes perfection.
The chosen fragrances are from reputable houses with high-end products, which I highly respect from a personal perspective due to the complexity of the blends and outstanding quality of them.
The style to pair with these fragrances can be a bridal, a dress with white color priority, or a fashionable casual combination.
Grossmith London - AMELIA
What they share in common?
PUREDISTANCE WHITE and GROSSMITH AMELIA, are both based on floral notes. They share rose and sheer musk, and a base of sandalwood and vetiver. They're both mere feminine and floral with poetic quality of flowers like you're watching a flower painting of Renoir.
Both share a high level of transparency like it is in reality, and both feature elegance and purity of the colors white and gold.
AMELIA's opening gives me the impression that this must be how towels smell in heaven! It's pure and weightless, like a feather floating in an unclouded sky. It shows a perfect amount of fluffiness softness without having a powdery effect.
The first time I tried AMELIA, I felt like I'm smelling a full-bloom honeysuckle bush with my face entirely in it.
Neroli, osmanthus, jasmine persists into rose and peony in their purest shape. Then it meets a cozy balance of patchouli, sandalwood, and amber that cocoons you like a thin cashmere throw in a fresh cool spring morning.
It is indeed an instant flow of happiness, one captivating scent that finds me with my nose permanently attached to my wrist, devouring its smooth, pale beauty.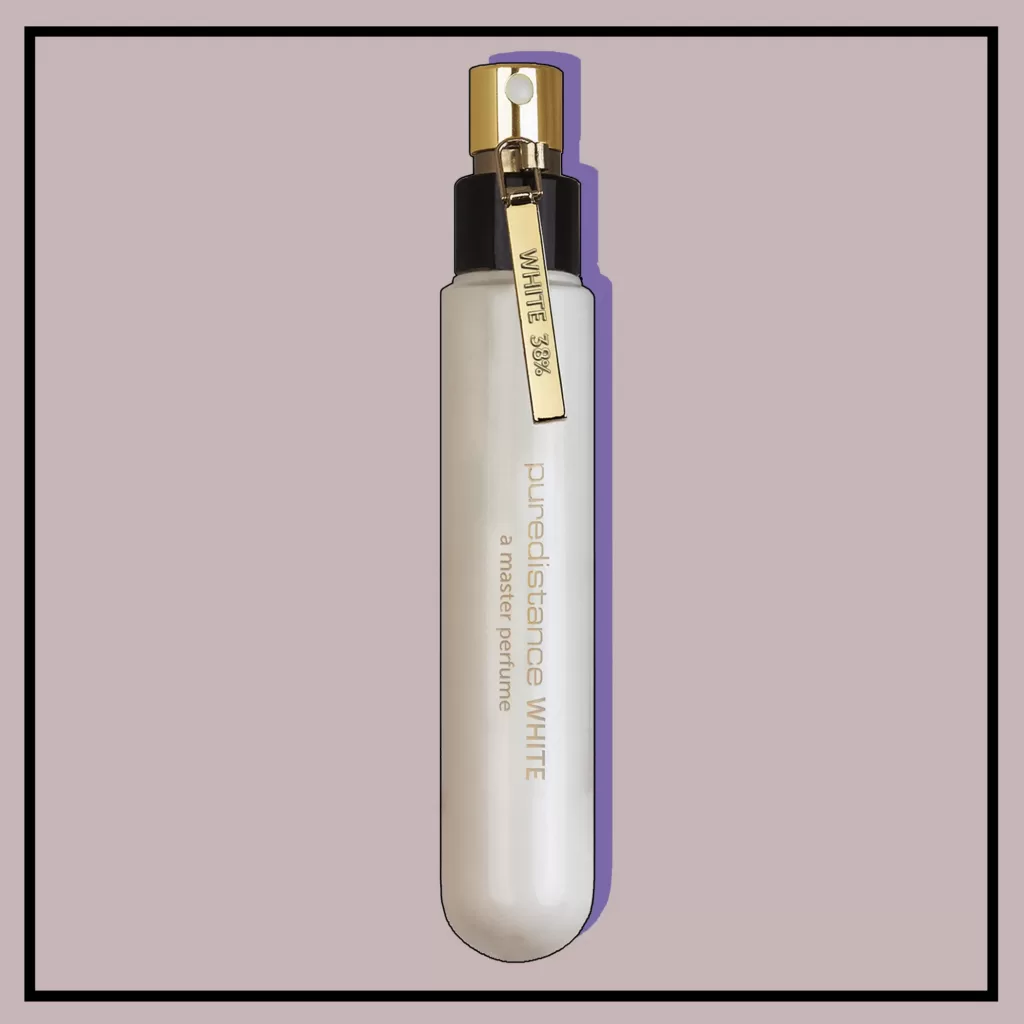 WHITE gives me the impression of white curtains of a window facing a garden that blurs the sunlight on the room floor. The curtains dance with the lightest breeze, so the sunlight reflection on the ceiling.
The perfume was conceived in the fertile imagination of perfumer Antoine Lie. In one word it is as smooth and shiny and soft as a white silk scarf.
WHITE opens on my skin with chilled citrus flecked with spicy patchouli and a touch of buttery iris and a delightful greenness that vaguely translates to vetiver. The effect of quality of the opening is dewy and fertile and has a great impact. However, the rest is masterly blended that I find myself unable to distinguish between the notes in the heart.
WHITE is fresh and warm, crisp with citrus, rounded with iris, and polished with musk. The whole combination is seamless, positive, happy, full of energy and it pictures a well-cared, regularly creamed porcelain feminine face.
Comparing the two fragrance
Both fragrances share common characteristics in high-endurance and successful sillage. Both are quite high quality in sense of smell and reality of notes. However, AMELIA may attract your attention if you care for classics and fresh florals. Not classic as oldies, but classics as timeless gems like works of MDCI or Lorenzo Villoresi. This perfume has a special way of naturals in its jasmine with some kind of wilderness, accentuated in a musky undertone. It's a floral that makes you madly want it.
WHITE, on the other hand, looks more contemporary and a bit sweeter and heavier in base. More than to be floral, it's the smell of a complete woman, slightly grown and older than the lady of AMELIA, but still quite young and attractive. It insists on its presence and it is impossible to pass by without attention.
WHITE shares the characteristics of a Chanel feminine fragrance. It's an iconic and a statement fragrance, while AMELIA, smells like a chateau.