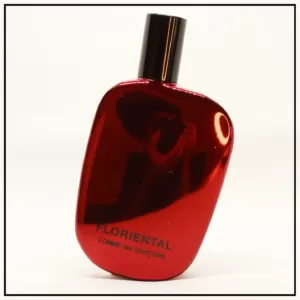 "Surprise", "uncommon", "bizarre" are the terms one can describe Japanese/French house of Comme des Garcons with. The perfume I'm discussing today is 2015 release by 

Emilie Coppermann

, but it's still damn new to me! Floriental.
I own several similar fragrances in my collection, but what is the magic about this perfume that made me add another one on the same mood to the items on my table of colognes?
Floriental is a woody spicy fragrance, no matter if the name registers for a symphony of flowers, or the color of the bottle reminds you of a garden of roses in bloom because of the pink pepper and sweet boozy plum of opening represent a giant quantity of crimson color in smell realm.
Like most CdG fragrances that share the same DNA of bulging woody elements – incense, cedar, sandalwood, and vetiver – Floriental displays a burnt cedar/sandalwood just after it initiated with prominent reserved pink pepper/plum.
The floral nuances hide there behind the massive woody shade. However, this is not a typical flower you know. It's a sort of resinous, balmy, earthy, and softly animalic labdanum that imitates like a dark criminal rose.
Something in the dry down smells quite eastern and shouts like oud wood. Yes, I believe there is oud in the compositions of the base, no matter if no one indicates it.
Floriental is a quintessential oriental and spicy fragrance with a dominant woody base. It's a contemporary and down-town'ish eastern composition. So chich, so posh.
In a way, it's a re-edition of Serge Lutens' far-eastern masterpiece: Feminite du Bois that came to existence in 1992. CdG makes it in its way, with all respect to the originality of Lutens'. Because of that, Floriental is a newer and a bit more masculine edition of that plum-cedar gem.
More than Feminite du Bois, Floriental fits brownish red, crimson, violet, and purple colors in style. It's so fancy and so posh. No way to wear such perfume on a casual outfit, IMHO.
Nicely enough longevity on my skin: 4 hours or so on my skin. Fair sillage, though.