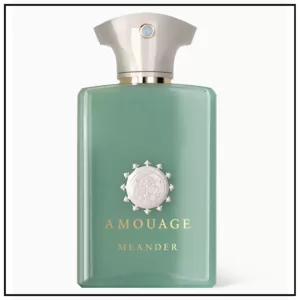 Amouage's new masculine fragrance Meander surprisingly matches a unique olfactory experience I had last spring during those gloomy days of lockdown. I was in a self-willed remoteness from everyone and everywhere in my bygone villa on top of mountains where pure forests and pure tranquility are.
It was aimless days in a cold mountain with consistent massive thick fog which you can't see even a meter ahead. I used to hike in the forest to gather wood for the fireplace. The sound of rough grass under my worn leather boots matches the smell of decay and mushrooms in the trunk of fallen trees that became victims of the wrath of thunder several years ago, and the scent of tiny wild violets and the smell of alfalfa flowers.
Meander delineates that inexpressible olfactory experience. The fragrance is majorly based on carrot seed, black pepper, vetiver, iris, rose, sandalwood, and, as mandatory of an Amouage fragrance, olibanum.
Nonchalantly, the fragrance opens with a well-shaken combination of rooty carrot seeds, meadow-like floralcy, merged with a soft touch of olibanum.
The iris pops up a bit later, pairs with carrot seeds, bony, dry vetiver, and a soft and controlled touch of olibanum. I like the way incense whirl in and out the whole combination. However, the vetiver and milky sandalwood which appears much later, give the perfume a sweet/savory taste that is to die for.
The combination of the bony woodiness, nostril-thickling pepperiness, and fertile earthiness in Meander, gives me the impression of sweet water pebbles.
Meander has more than average longevity on my skin: +6 hours which is good. However, it fails the daredevil projection of former Amouage fragrances which are notorious for the enormous sillage. So, I warn you here to not take a test with an expectation of monstrous projection of monstrous Amouages.
The only thing that makes me concerned is that is the new director of Amouage; Mr. Renaud Salmon trying to make a new Amouage for the youngster generation?
Meander is calm and silent. It is tranquil and soft. Great for a gray or greenish-gray suit. Also great for a white shirt and Prussian blue jeans.
All in all, Meander is a fragrance that a picky person like me who buys perfume with precession would spend on.
In the end, I take your attention to enjoy the video I captured last year of how the fog covers the valley in less than a minute.